The PAT-Core: Enabling battery studies of unmatched quality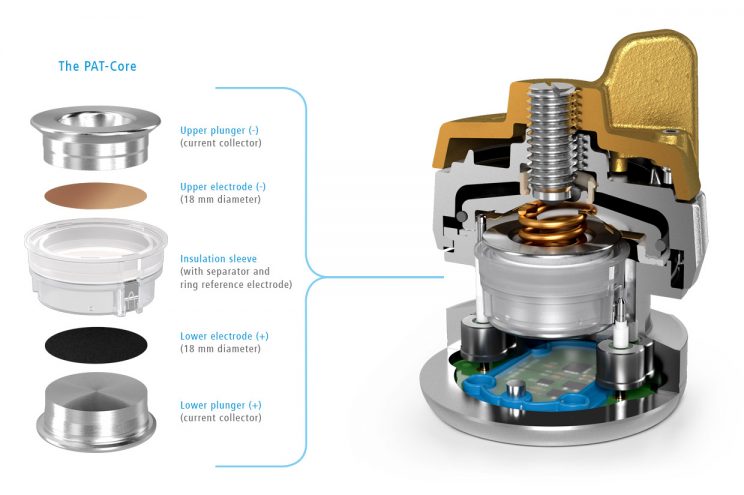 The PAT-Core is the world-wide patented*, essential part of the PAT-Cell. It holds the electrodes undergoing testing in place and allows for precise alignment of the cell stack. The well-defined geometry of the PAT-Core enables high-quality two- and three-electrode tests of Li-ion and other battery materials as well as supercapacitors. It is even suitable for special applications such as the use of printed electrodes.
The easy assembly of the PAT-Core minimizes the human factor in experiment preparation and even qualifies for robotic assembly.
The standard PAT-Core comprises three components. The first part is a highly customizable insulation sleeve with a built-in separator and ring-shaped reference electrode. Different reference materials like sodium or magnesium and various separator materials such as glass fibre or microporous polyolefin are available. The single-use concept lowers lead times in the lab and minimizes the risk of cross-contamination. The insulation sleeve is preassembled under a protective argon atmosphere at the EL-CELL factory to ensure consistent quality for reproducible battery tests. PEEK is now made available as alternative material for the insulation sleeve; this way we are also able to offer the insulation sleeve as a reusable version for self-assembly.
The upper and lower plungers complete the PAT-Core and serve as current collectors. Battery researchers can choose from a broad range of different materials: battery-grade aluminum and copper, reusable stainless steel or precious metals, such as gold or platinum for special demands.
This way the PAT-Core is ready for both aprotic and aqueous electrolytes as well as special purposes such as high temperature environments.
*Patents: EP3108224, US10,408,781B2, ZL201480075905.3: REFERENCE ELECTRODE INSERT FOR AN ELECTROCHEMICAL TEST CELL – PAT-Core
The PAT-Core: A modular concept to fit almost all testing purposes

PAT-Core configurations for common test cases
The PAT-Core components in detail
Upper plunger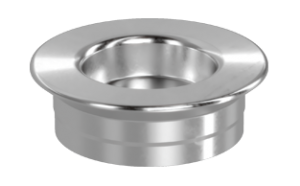 By default, the upper plunger serves as the negative current collector. The given size fits for any thickness of the upper electrode up to 800 μm . The plungers are available in Stainless Steel (ss), Al and Cu, and as a special version made of PEEK polymer. The PEEK plungers are used in combination with a disc-shaped metal foil as the current collector. Many different metals are available including Au, Pt and Ni.
For use with printed electrodes, a special slotted current collector foil made of stainless steel is available as well. It can be used in combination with all available plungers.
Insulation sleeves are available in the materials polyproplyen (PP) and PEEK. The inner and outer ring are clipsed (PP) or sticked (PEEK) together with a separator or separator -like material (such as a solid state electrolyte) in between. For three -electrode tests, a reference ring can be additionally mounted into the insulation sleeve. An additional reed contact serves as the electrical contact for the reference ring. Different reference ring materials are available including lithium metal, LFP and LTO.
1. Insulation sleeve (PP) for single-use
The variant made of polypropylene is a single-use item with built-in separator, ring reference and reed contact. The single-use concept lowers lead times in the lab and is the perfect choice for high-throughput testing.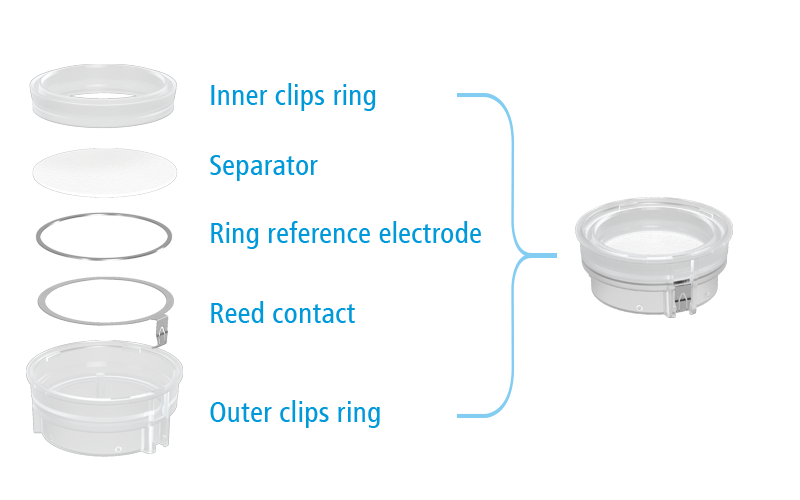 2. Insulation sleeve (PEEK), reusable
The PEEK variant on the other hand is reusable and optimal for higher temperatures (up to 200 °C). It is assembled before each testing so you can modify its components easily. It is the right choice for small scale testing and the more unusual ideas.
Insulation sleeves may be ordered readily assembled (PP) or for self -assembly (PP or PEEK). When assembling the insulation sleeve yourself, please use separator circles of 21.6 mm diameter. All parts except the PEEK rings are for single -use.
As a standard, we offer three different types of separators: a double-layered separator comprised of a 180 µm thick nonvowen PP cloth (Freudenberg FS 2226 E) and a 38 µm thick microporous UHMW-PE membrane (Lydall Solupor 5P09B), a 260µm borosilicate glass fiber separator (Whatman GF/A), and a 25µm nonwoven polyester separator pasted with Al2O3 (Freudenberg Viledon FS 3005-25). Other separators and customized solutions are available on request.
Separator comparison:
| | | | |
| --- | --- | --- | --- |
| Separator | FS-5P (Freudenberg Viledon FS 2226E + Lydall Solupor 5P09B) | Freudenberg Viledon FS 3005-25 | Whatman GF/A |
| Thickness | 220µm | 25µm | 260µm |
| Material | PP fiber/PE membrane | PET fiber, Al2O3 | Borosilicate glass fiber |
| Porosity | FS: 67%/ 5P: 86% | 55% | 91% |
| Wettability | Good | Good | Excellent |
| Resistance to dendrites | Good | Poor | Modest |
| Ability for full cell cycle tests | Excellent | Good | Good |
| Ability for half cell cycle tests (vs. Li) | Excellent | Poor | Modest |
| Ability for full cell EIS | Excellent | Excellent | Excellent |
| Ability for half cell EIS | Modest | Poor | Good |
| Order no (sleeve with Li reference) | ECC1-00-0210-V/X | ECC1-00-0210-A/X | ECC1-00-0210-O/X |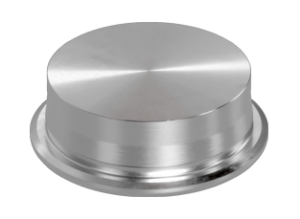 By default, the lower plunger serves as the positive current collector . The choice of materials is the same as for the upper plunger, however, the lower plunger comes in different sizes (height numbers) to account for different thicknesses of the lower electrode and the separator. Available height numbers range between 50 and 800 in steps of 50. The proper plunger height must be chosen to ensure that the pre -assembled separator is not excessively bent during assembly of the PAT -Core. The proper height number depends on both the thickness of the lower electrode and the thickness of the built -in separator. Please note that the height number starts with a zero point offset of 50. The height number does not refer directly to the height of the lower electrode in μm.
Our configurator can help you to determine the proper lower plunger for your battery test:
Lower plunger configurator
Any comments about this page?