Electrochemical dilatometer ECD-3
Test cell for the measurement of electrode strain (thickness change) in aprotic as well as aqueous electrolytes
Electrochemical dilatometer ECD-3
Test cell for the measurement of electrode strain (thickness change) in aprotic as well as aqueous electrolytes
Electrochemical dilatometer ECD-3
Test cell for the measurement of electrode strain (thickness change) in aprotic as well as aqueous electrolytes
Watch your electrodes breathing
The ECD-3 is a research grade instrument dedicated to the measurement of charge-induced strain (expansion and shrinkage) of electrodes down to the sub-micrometer range. It is particularly developed for the investigation of Li-ion battery and other insertion-type electrodes. It may be used in organic as well as aqueous electrolyte solutions.
The ECD-3 is the result of more than 10 years experience in this field. The heart of the ECD-3 is an electrochemical cell, which is hermetically tight against ambient atmosphere. The two electrodes inside are separated by a stiff glass frit, which is fixed in position. The upper (working) electrode is sealed through a thin metal membrane, which transmits any charge-induced height change to the sensor/load unit on the top.
A high-resolution displacement transducer detects dimensional changes ranging from 20 nanometers up to 500 micrometers during an experiments, which can take between a few seconds and many days. A simple weight serves to adjust the load on the working electrode. The potential of the working electrode can either be controlled against the counter electrode (cell voltage control) or against an additional reference electrode.
Improvements of the ECD-3 (in comparison to previous versions)
Elimination of tubing and external valves reduces the risk of leakage and saves effort.

Use of special polymer with minimal water absorption reduces drying effort and accelerates work flow.

Use of a smaller glass frit reduces amount of electrolyte required (approx. 0.5 cm³)

Better handling saves time and effort.
ECD-3 overview
Upgrade Kits
In the standard configuration, the ECD-3 is equipped for aprotic electrochemistry (dilatometer cell, sensor and sensor-controller with dc-voltage output -10 to 10 V) with integrated USB data logger. Materials in media contact are stainless steel and PEEK. The user has to provide all peripheral equipment like temperature chamber and potentiostat.
Various add-ons are available for special testing requirements:
Upgrade Kit Aqueous: replaces stainless steel parts by gold parts and thus makes the ECD-3 compatible with aqueous electrochemistry.
ECD-3 Full Cell Kit: Part kit for testing full cells without T-frit.
Part Kit for Testing Single Crystals/Grains: Part kit for using single grains or crystals instead of bound electrode films.
Assembly of the ECD-3-nano electrochemical dilatometer
In this video, you will learn how to assemble an ECD-3 electrochemical dilatometer inside the glove box, how to connect it and finally how to adjust the sensor for testing.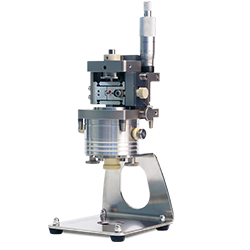 Electrochemical Dilatometer for the measurement of electrode strain (thickness change) in aprotic as well as aqueous electrolytes.
Any comments about this page?