ECD-3-nano-aqu
Electrochemical dilatometer for the measurement of height changes in aqueous electrolytes with nanometer resolution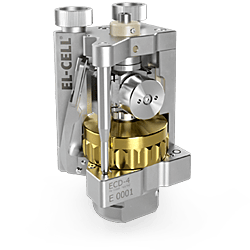 Discover the new ECD-4-nano, the highly improved successor of the ECD-3 series!

Highly improved cycling stability due to redesigned sealing concept
Capacitive displacement sensor (range 250 μm, resolution ≤ 5 nm)
Additional gas pressure (0 to 3 bar) and temperature sensor (-20 to 80° C)
Cableless connection via PAT socket, with electronic cell tag (PAT-Button)
Read more
Watch your electrodes breathing
The ECD-3-nano-aqu is the dilatometer with a displacement resolution in the nanometer range specialized for the use in aqueous electrolytes. Its capacitive parallel-plate sensor system can obtain displacement signals of below 5 nanometers. This high resolution makes it possible to explore new territory of electrochemical dilatometry. For instance, quasi 2-dimensional electrode processes like the SEI formation in lithium-ion batteries or the electrochemically driven growth of passivation layers on metal surfaces might become the subject of future dilatometric studies.
The heart of the ECD-3-nano-aqu is an electrochemical cell, which is hermetically tight against ambient atmosphere.  The two electrodes inside are separated by a stiff glass frit that is fixed in position. The upper (working) electrode is sealed by means of a thin metal membrane through which any charge-induced height change is transmitted towards the sensor/load unit above. The cell components in media contact are made of gold and PEEK.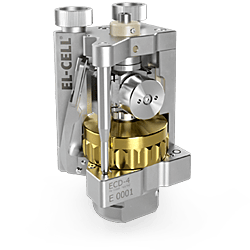 Advanced test cell for the measurement of the electrode expansion in the nanometer range.