PAT-Chamber-16
Temperature-controlled docking station for PAT series test cells
PAT-Chamber-16
The PAT-Chamber-16 adds even more comfort while conducting battery tests by combining the high throughput testing abilities of the PAT-Stand-16 with a temperature-controlled cell chamber. The integrated Peltier device enables you to test at the exact temperature you need, without using an external heat chamber.
Furthermore, it is our first high throughput docking station that is capable of utilizing both the PAT-Cell and the PAT-Cell-Press for in-situ pressure monitoring of up to 16 test cells at the same time.
The PAT-Chamber-16 is equipped with an anti-condensation system that ensures the smooth operation of the temperature chamber. A built-in condensation trap, as well as ventilation flaps controlled by humidity sensors, effectively prevent the formation of condensation water in the cell chamber, which could otherwise accumulate during heating or cooling operations.
All these features make the PAT-Chamber-16 the optimal choice for performing simultaneous battery tests with PAT-Cells and PAT-Cell-Press in a temperature-controlled environment.
Just like the PAT-Stand-16, the PAT-Chamber-16 comes with a built-in data logger recording full and half cell voltages, cell current, time, global temperature and individual cell pressure.
The PAT-Chamber-16 can be left connected permanently to all of today's multi-channel potentiostats or battery testers. This way, you save a lot of wiring effort, because it is not necessary to renew the connection between cell and potentiostat for every battery test.
PAT-Chamber-16 overview
Features
Docking station for up to 16 PAT-Cells or PAT-Cell-Press for pressure monitoring
Integrated Peltier-temperature-control with anti-condensing system Temperature range 10 to 80°C With data acquisition of cell current, cell voltage, half cell voltages, global temperature, individual cell pressure Compatible with all of today's potentiostats and battery testers Saves wiring effort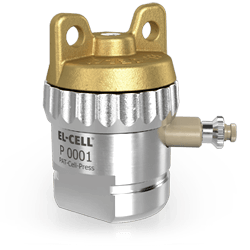 Pressure test cell for measuring gas evolution and drawing gas samples
Any comments about this page?