PAT-Cell
The ideal test cell for high-throughput battery testing.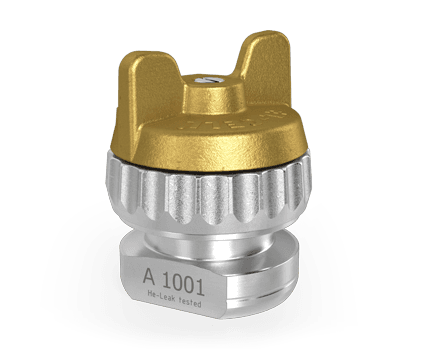 Our electrochemical standard test cell for two and three-electrode testing.
The PAT-Cell is a test cell for 2- and 3-electrode measurements on battery materials. It uses the modular PAT-Core concept and can therefore be used for a variety of test purposes. The cell has no wiring but is inserted directly into a PAT battery tester or connected to any commercially available battery tester / potentiostat via a PAT docking station. The easy handling is further improved by features such as the integrated PAT-Button. This electronic memory in the cell bottom enables automatic cell recognition when the cell is inserted into a PAT battery tester.
The PAT-Cell is equally suitable for automated high-thoughput scenarios and small-scale test series.
PAT-Cell overview
Features
Lid seal for maximum tightness
With the reworked cell design, aluminium seals along with the new metal seal lid can now be used in addition to the proven polymer seals. This can make a difference in long-term measurements.
Glass-to-metal seals for improved temperature resistance
With the new GTM electrode feedthroughs, the PAT-Cell can now be operated and thermally cycled between -40 to +80° C. Up to 200°C with the PAT-Cell-HT.
PAT-Button – Ready for automation
When connected to a PAT battery tester, the PAT-Cell can now be identified by its electronic signature. No need for paper and pencil anymore.
Superior corrosion resistance for next-generation
battery chemistries
Cell base made of stainless steel 1.4404 (316L) for compatibility with highly corrosive electrolytes.
Guaranteed tightness
All PAT-Cells are helium leak tested at the EL-Cell factory..
Long term tests
The PAT-Core enables battery tests with a three-electrode setup of a duration of 1000 hours and more. The reason for this advantage is the new ring-shaped Li-reference electrode, which is far more time stable than point-type reference electrodes.
This makes the PAT-Core the perfect test system for aging studies.
Half-cell impedance spectra
The results of half-cell impedance spectroscopy reach a new level with the new PAT-Cell. The ring-shaped Li-reference electrode allows half-cell impedance tests with minimal artifacts, due to the well-defined geometry of the insulation sleeve.
Easy electrolyte filling
The PAT-Cell can be filled easily with electrolyte during the assembly procedure. The user needs only an usual micro pipette for this purpose to drip a defined amount of electrolyte onto the separator, which is factory preinstalled in the insulation sleeve of the PAT-Core.
The amount of the electrolyte used is typically between 50 and 200 μL, depending on the thickness and porosity of the electrodes and separator used.
Increased productivity
The new PAT series improves the productivity of battery testing. The single-use concept avoids effort for cleaning and disassembling the PAT-Cores. When used with a PAT-Tester-i-16 or a PAT docking station, it saves time for connecting the test cells with the potentiostat for every new battery test. Moreover, the compact design of the PAT-Cell and the docking devices save space in the lab. All these features increase the battery testing productivity and facilitate high-throughput testing.
Specifications
Compatible PAT docking stations
Consumables
Please note that not all combinations may be well suited for your testing setup. As a guide you can use our sample setups that cover the most common applications.
Aqueous electrolytes
The PAT-Cell withstands all common aqueous electrolytes such as sulfuric acid and potassium hydroxide solution. Due to its excellent corrosion resistance, the PAT-Cell-Press can also be used for aprotic systems beyond Li-ion. We recommend using PEEK plungers with current collector discs in gold or platinum for these applications as shown below:
Sample test 1: Cycling of NCM 111 vs Graphite for 2000 hours.
Sample test 2: Cycling of NCA vs. Graphite.
Accessories
PAT-Button Upgrade Kit for PAT-Cell (Button Kit II, Order no.: ECC1-00-0249-C )

Benefit from the automatic cell recognition in our PAT battery testers. Upgrade your existing PAT-Cells with the PAT-Button. It contains an electronic memory chip on which the cell ID is stored.
When inserted into a PAT battery tester, the PAT-Cell is automatically detected by its electronic signature and displayed in EL-Software. In this way, you always have an overview of your test cells. Notes on paper or directly on the cell are therefore superfluous.
Recommended PAT-Core configurations
This information can be used as a guide for building the PAT-Cell. More PAT-Core setups can be found here.
3-electrode testing with aprotic LiPF6 based electrolytes
2-electrode testing with aprotic LiPF6 based electrolytes
3-electrode testing with aprotic supercap electrolytes

*x = Height number (50 to 800). Use our configurator to determine the proper lower plunger.
**AC = Activated carbon
Assembling the PAT-Cell with NCM-Li-Li (06/2020)
In this video, Dr. Matthias Hahn shows the assembly of the 3-electrode PAT-Cell inside the glovebox environment.
This video is part of a video series about our application note:
NCM against Lithium – Too much Lithium?

PAT-Cell disassembly (06/2020)
In this video, Dr. Matthias Hahn disassembles a PAT-Cell for post mortem analysis.
This video is part of a video series about our application note:
NCM against Lithium – Too much Lithium?