PAT-Tester-x
The PAT-Tester-x offers maximum flexibility with up to 6 channels for small scale and special purpose testing.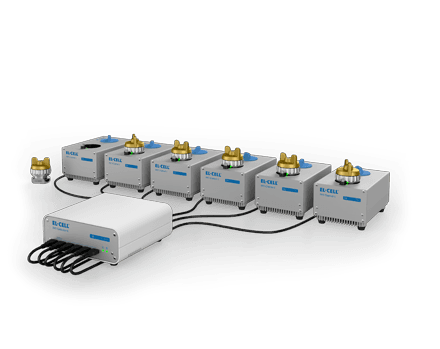 The individual test solution
The PAT-Tester-x is the perfect choice for small scale and special purpose testing. It brings the same battery tester hardware and software as the PAT-tester-i-16. However the fully featured channels (galvanostat / potentiostat / impedance   analyzer) are separated into individual devices. Up to 6 PAT-Channels may connect to one single PAT-Controller with the latter acting as the server PC with 100 GB data storage and LAN connectivity. That way each channel of the PAT-Tester-x can be controlled from any client PC in the same network via the EL-Software.
The individual PAT-Channels can be placed where they are needed: on the bench, in a climate chamber, or inside the glove box. While tailored for PAT-Cells, each PAT-Channel can also connect to almost any other test cell including the ECD dilatometer and optical in-situ cells.
Specifications
General
Voltage
Current
Impedance (each channel)
Other
Any comments about this page?