PAT-Cell-Gas
PAT-Cell for in-situ gas analysis in a flow-through set-up
Our versatile test cell for in-situ gas analysis
The PAT-Cell-Gas is a test cell dedicated for in-situ gas analysis of battery materials in a flow-through set-up. For that purpose, the test cell features a gas inlet and outlet and optionally a built-in pressure sensor and a valve port for gas sample removal with a syringe.
The cell stack is placed on top of a perforated or grooved current collector (flow field), which is to be purged with a gentle stream of gas. The lower electrode must be gas permeable, so as to allow for gas exchange with the feed gas. Typically, the cell is used with gas diffusion electrodes (such as for Li-air) or with Li-ion battery electrodes with a meshed current collector. The special design minimizes backmixing of the gas from the flowfield back into the headspace, and is thus very suitable for time-resolved gas analysis with a mass spectrometer, for example.
PAT-Cell-Gas overview
Features
PAT series test cell with gas inlet and outlet
PAT-Core design with or without ring-shaped reference electrode Lower plungers with perforated plate and with spiral-shaped flow field for optimized plug-flow available. Optional laser-welded pressure sensor, 0 to 3 bar abs. Optional gas sample port Electrode feedthroughs with glass-to-metal seals Optimized lid for use with metal seal Helium leak tested for high tightness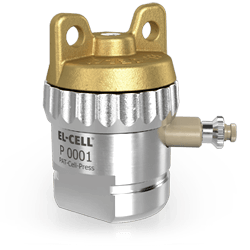 The PAT-Cell-Press is the ideal, leakproof cell for pressure testing.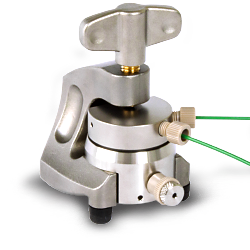 Test cell for characterization of gas diffusion electrodes in aprotic electrolytes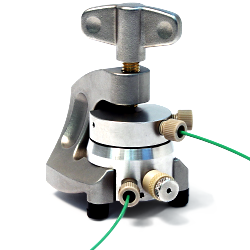 Test cell for time-resolved gas analysis. For Li-air and conventional Li-ion chemistries.
Any comments about this page?