PAT-Cell-Press
The PAT-Cell-Press is the ideal, leakproof cell for pressure testing.
Our pressure test cell for the PAT series
The PAT-Cell-Press is the newest member of our PAT series. It is a pressure test cell for measuring gas evolution and drawing gas samples (option). Its advanced design includes a laser welded pressure sensor and glass-to-metal seals. The number of non-permanent seals is reduced to its minimum: a single PE seal between cell lid and base and a ferrule when the cell is ordered with the optional gas sample port.
In order to ensure best testing results, every PAT-Cell-Press is intensively tested for helium leaks. It is used with the PAT-Stand-1 docking station or in multi-channel configuration in the PAT-Chamber-16.
PAT-Cell-Press overview
Features
PAT-Core design with or without reference electrode
Laser welded pressure sensor, 0 to 3 bar abs Electrode feedthroughs with glass-to-metal seals Helium leak tested Analog outputs for pressure and temperature (+-10V) for seamless integration with other instruments Saves wiring effort
Specifications
Compatible PAT docking stations
PAT-Press package
The PAT-Press is a complete single cell package for recording the pressure rise during battery formation and cycling, and for drawing gas samples from the headspace of the test cell. For testing with multiple PAT-Cell-Press test cells we recommend using the PAT-Chamber-16 or PAT-Tester-i-16.

PAT-Press Package content
Schematic view of a connected PAT-Stand-1 testing a PAT-Cell-Press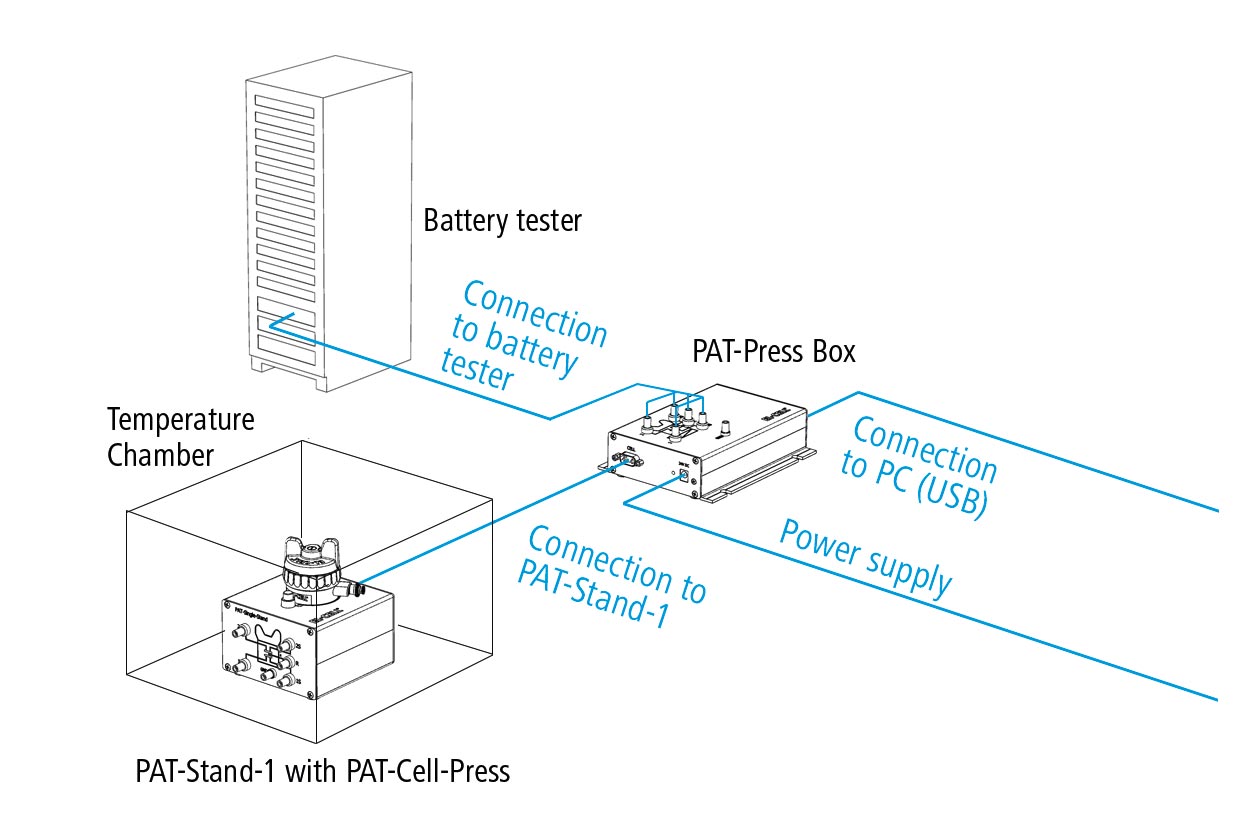 Recommended PAT-Core configurations
This information can be used as a guide for building the PAT-Cell. More PAT-Core setups can be found here.
3-electrode testing with aprotic LiPF6 based electrolytes
2-electrode testing with aprotic LiPF6 based electrolytes
3-electrode testing with aprotic supercap electrolytes
*x = Height number (50 to 800). Use our configurator to determine the proper lower plunger.
**AC = Activated carbon
Pressure response during cc/cv cycling of a supercapacitor.
Test setup: PAT-Cell-Press, activated carbon electrodes, activated carbon reference, 1M TEABF4 in acetonitrile, 25μm polyolefine separator (2x)
Recommended docking stations
The PAT-Cell-Press test cell is fully supported by the following docking / test stations.
The PAT-Tester-i-16 integrates a temperature controlled cell chamber and docking station with a battery tester into one single instrument.
The PAT-Chamber-16 is a temperature-controlled docking station for PAT series test cells.
The PAT-Stand-1 is a docking station for individual battery testing. The PAT-Cell-Press is fully supported by the PAT-Stand-1 if used as part of the PAT-Press package.
High precision cutting pliers to eliminate torn and chipped electrode edges. Recommended diameter size for use with the PAT-Cell-Press is 18 mm.
Punching tool for lithium foil. The recommended size for use with the PAT-Cell-Press is 18 mm.
Any comments about this page?